YOU CAN HELP YOUR COMPATRIOT FROM THE EAST COME BACK HOME
As a result of political deportations and decisions in the areas of influence of Russia and the former USSR, find themselves where hundreds of thousands of Polish families. Some of them turn up in the Caucasus areas yet in times after the fall of the November Uprising, others after the defeat of the January Uprising ended at Siberia.
The consequence of the East Polish border changes is the detachment a large number of compatriots from the motherland – those people who with the greatest effort resisted Russification and later also communism.
We decided to invite them to the Home – in our school, the youngest generation of Poles from the East receive an education so that in the near future, build the prosperity of the homeland of their ancestors, and now also their homeland. Together with the Ambassadors of our campaign, we wanted to draw your attention to the matter of repatriation. We also believe that it is a mutual chance – for our compatriots from the East, and also for Poland. Difficult demographic forecasts and mass emigration of young people on human behavior, and at the same time the last moment through the massive return process. Difficult demographic forecasts and mass emigration of young people to other markets create the most appropriate and, at the same time, the last moment to start a massive return process.
The spot was prepared with zero financial expenditure. All those who worked on its creation worked for this idea for free. All funds that the Foundation manages to collect are allocated to all of the statutory goals.  Financial support from the government institutions covers only a small part of our school's needs, therefore we are constantly fighting to gain new partners, patrons, and support.
Both the Foundation and the Polonia High School, which we care for, operate in a temporary office in which we sub-rent the premises. Thousands of young Poles are still waiting for a chance to let them return to the House. That's why our own building, our own home is our highest priority.
We count on your support!
WE CAN HELP OUR COMPATRIOT FROM THE EAST COME BACK HOME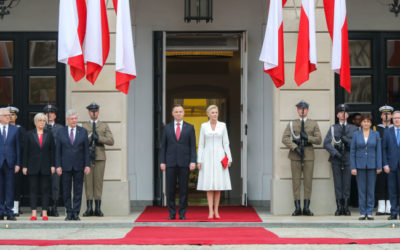 Z okazji Dnia Flagi RP i Dnia Polonii i Polaków za Granicą reprezentacja szkoły została zaproszona do Pałacu Prezydenckiego. Po oficjalnych obchodach święta przed Pałacem udali się do ogrodów. Tam z białego i czerwonego kartonu uczniowie i...
read more

Dzięki dofinansowaniu ze środków Kancelarii Prezesa Rady Ministrów w ramach realizacji zadania publicznego dotyczącego pomocy Polonii i Polakom za granicą  Fundacja "Dla Polonii" może w 2020 r. przeprowadzić nienastępujące projekty:
"Witamy w domu"- wieloletni program kształcenia językowego i kulturowego młodzieży polskiego pochodzenia ze Wschodu;
"Kultura w praktyce"- organizacja zajęć kulturalno-edukacyjnych dla młodzieży polskiego pochodzenia ze wschodu.
"Stypendia na naukę w Liceum Ogólnokształcącym Niepublicznym Kolegium Św. Stanisława Kostki dla uczniów polskiego pochodzenia ze Wschodu".
"Witamy w domu"- kwarantanna.
FUNDACJA "DLA POLONII"
Adres:
ul. Bobrowiecka 9
00-728 Warszawa 
Jesteśmy organizacją pożytku publicznego (NGO)
 NR KRS : 0000423252 
KONTAKT
numer telefonu:  +48 22 559 21 11
email: biuro@fundacjadlapolonii.pl